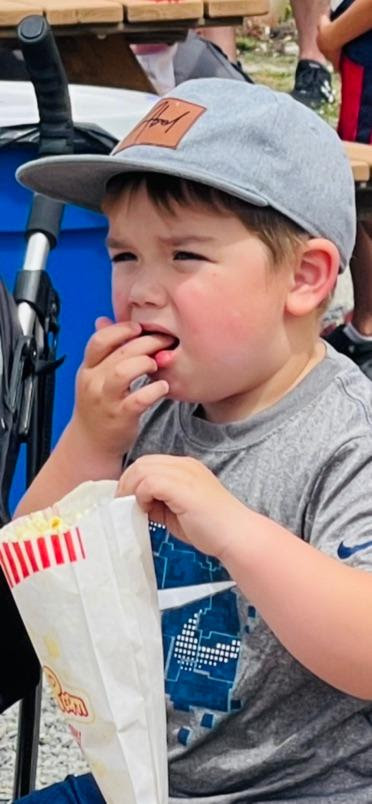 Dearest Friends,
Please pray for our New York adventure! I spent the last week in Horseheads, New York. I arrived days before the puppet team as they were all in summer camps. They flew in on Friday and joined a wonderful team of young people who had been training with me for 3 days. I drove the equipment north and had a beautiful visit in Baltimore, but those stories will have to wait for another email.
We began doing shows together at the Windmill. It is a large craft fair where you can buy a variety of handmade things, as well as fruits and vegetables. We were given the best spot to set up. We were at a small pavilion at the front of the fair. It was centrally located to everything!
I am thrilled to tell you that we were blessed to do five shows before we were asked to leave. We were there at their invitation. Their decision reminded all of us how spiritually dark this place is, but more, how bright the love of Jesus is!
We heard one little girl asking Jesus to rescue her! A little Amish boy sat through all five shows. Once his grandfather came and got him but he was back in five minutes. One of our friends observed that many were riveted by the stories I told about Jesus. His stories always grab people's hearts and I believe that people are hungry to hear about hope. They stood in the hot sun and listened!
We also did a show at church yesterday and shared many mission stories with the congregation. The church elders all gathered around us and prayed! John James and his fire Bible was amazing! Everyone was very encouraging, and we had an awesome time. In the afternoon, we did a second show at another church after their picnic. This really is a great adventure!
We are learning to work and play together. We all enjoyed a pool party and cook out last night. Jared and Heather Bolstridge opened this door for us to be in New York and work with their young people! They are both former puppeteers, preparing to go to the mission field and family to me. I am so blessed to have Ellie, Caleb, John James and Jana with me, as well as 2 of my grandchildren, Evangeline and Daniel!!! Daryl, the father of 3 of the puppeteers so kindly took off from work to join us and be big bear!
Today, we are all headed to Syracuse and eager to see what God does! Please hold all us in your prayers!!
In Jesus,
Linda