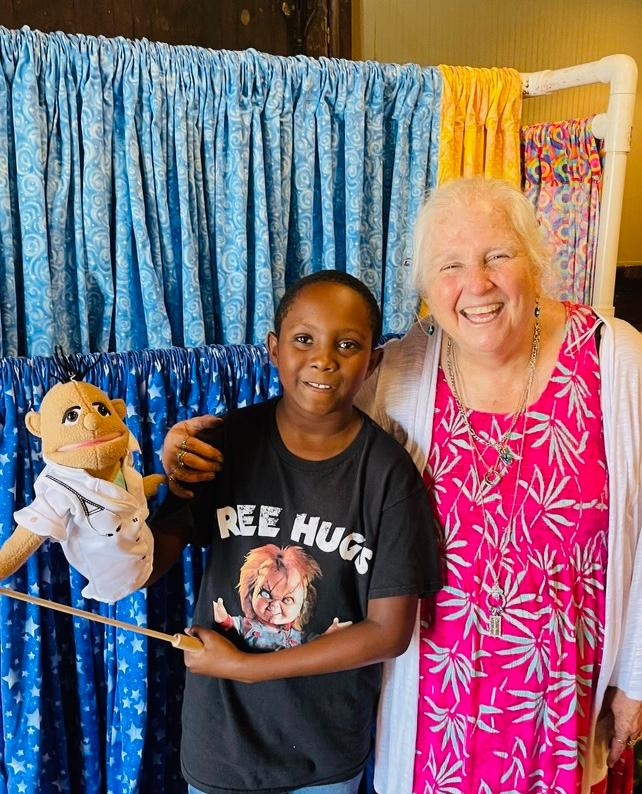 Dearest Friends,
Joy!
On Saturday, we partnered with a small local church, Oakhill Baptist, who had a big dream! They wanted to schedule a puppet show, but not inside their church! Their desire was to reach out into the community by having the show where the children lived. Awesome! They brought their grill and cooked hotdogs. They advertised and tied balloons everywhere.
So many children came and so many prayed out loud, asking Jesus to rescue them!
Above you see a picture of me and a little boy who brought his puppet to the show. He told me that he loved the show! Another boy who had seen a previous show said," I remembered every word you said and everything I heard from everyone. I can't forget any of it!"
That is my heart's desire! I want the stories of Jesus and the truths of God's words to be unforgettable! Please ask the Father to bless these children with deep faith!
Tennessee
Dear friends at another supporting church in Tennessee, Covenant Presbyterian, invited us to do a puppet show at their church. They were the very first friends to schedule a show since the pandemic began. It was a beautiful evening with many children praying out loud, asking God to forgive them and Jesus to rescue them. I am so grateful for their courage and determination to begin again to have special programs for the children!
New York
I was invited by Heather and Jared Bolstridge, former puppeteers, to speak at their youth conference. It was amazing! I confess that I questioned their choice. I thought they needed someone young and cool, but they asked me. I kept thinking of an old quote I had read that said, "Attempt something so impossible that it is doomed to failure unless God is in it!" This is exactly how I felt!
God blessed this time and many young people responded as I challenged them to live for what matters most, the Gospel! I wanted the young people to know that there is no greater story than the story of Jesus and no greater truth than God's word.
One young man came and showed me his brand new Bible. He was so happy! He held it with great love and reverence and asked me what to read. I want to be like this young man and always hold the word of God with love and reverence!
The weekend was amazing! Heather and Jared put so much work into that conference ! They are incredible youth leaders, but always, better puppeteers and family to me!
Blessings!
Mahfoud is better but must learn to walk again. He needs you to pray for strength. I want to see the Father raise him up so that he can do the work he loves so much, telling Moslems about Jesus.
I am traveling to Northern Italy today. Please cover all of the details with prayer, especially the 8 bags of equipment I am carrying. I will be working with our Italian directors, Fabiana and Gerson Simioni. Together we will prayerfully resupply 2 teams and start a new work in Tuscany. Also, I have equipment for them to take to Albania to the team they planted last fall. Please pray!
In Jesus, Linda and Danielle