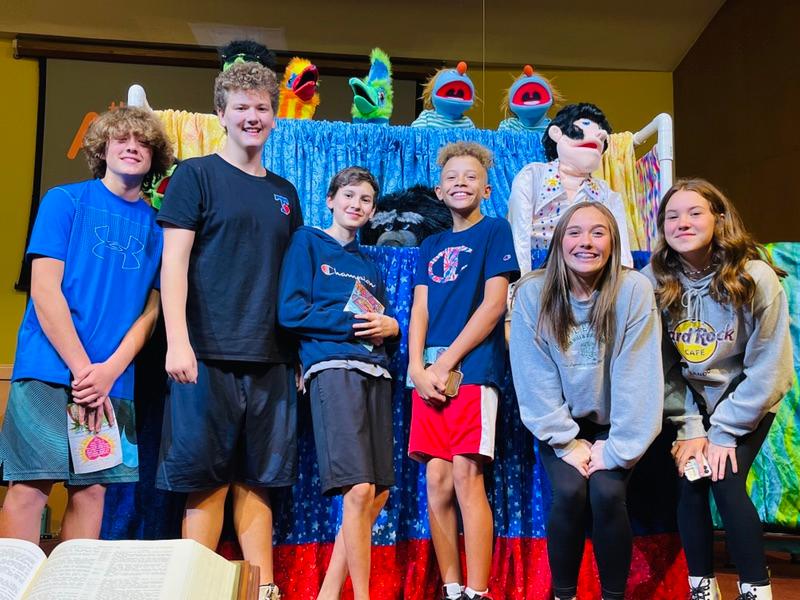 Dearest Friends,
There Beautiful Moments
Last weekend, I travelled to Massachusetts to speak at the First Congregationalist Church of Rochester. For many years, they have faithfully prayed and financially supported us. I am so grateful, as I am grateful to all of you who give to and pray for the The Agape Puppets.I had many sweet times of fellowship with Mike and Roxanne and their family, who have become family to me.
I enjoyed seeing so many people, but there were three lovely moments that made my heart want to sing! As I closed my talks on Sunday morning, I told them how I often tell children to hold onto Jesus. I crossed my arms over my chest, and I am delighted to see when thousands of children around the world do the same. As one little boy left the service, he turned and smiled at while he crossed his arms over his chest. It was his way of telling me that he loves Jesus too. Above you will see a picture of him and I together.
Sunday afternoon, I was sent a picture that a little girl had drawn. She had watched me me tell a story during church where I had finished with the cliff illustration. This illustration explains very clearly how to trust Jesus. She remembered everything I drew. Above you can see her effort to recreate it. It filled me with joy that she listened so well! I was equally thrilled by a little boy to whom I had given a Jesus Storybook Bible two years ago. I brought him a new Bible story book this year. His grandmother told me they had read through the other one and were excited to have something new. The little boy wanted to know when I would come again. Please pray for all of these children and for the church. Ask God to make them a bright light for the kingdom!
My Wonderful Puppet Team!!!
Last week we did a puppet show for so many children and teenagers. Even a few adults came. I honestly think the teenagers enjoyed it just as much as, maybe even more than, the children! They wanted their picture taken with the puppets which you can see above. Lots of the children asked me for my autograph. I thought that was very funny. The entire group loved the puppet show! The best part of the evening was hearing lots of children call on Jesus, asking Him to rescue them.
The team is amazing! They did the best job. Every time we do a show, they are improving. For this show, we had an extra puppeteer named Caleb. He is the nine year old brother of Elli and Jana. He did a bear puppet on the bottom, and was thrilled! His father was big bear on the top. It was quite the family affair. Danielle and John James agreed that this was a great show. They work very hard, and I am so proud of them. Please ask the Lord to open more doors for us to share!
Christmas Shows
We have a wonderful Christmas show, and it is not too late for you to schedule us to come! This is a great outreach opportunity for your church or just for your friends and family, Please reply to this email if you are interested in scheduling a Christmas show. We have some Wednesday nights and Sundays available.
In Jesus,
Linda, Danielle, John James, Elli, Jana, Caleb, and Daryl