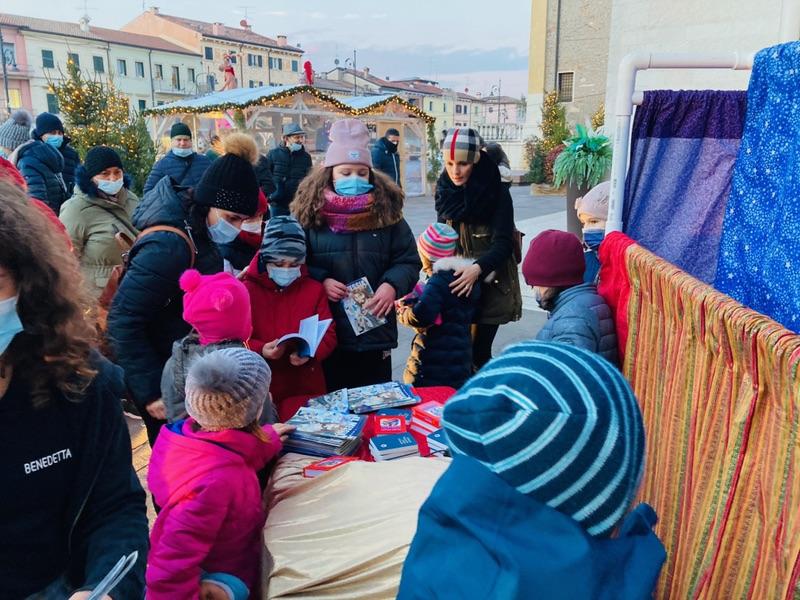 Dearest Friends,
Christmas Shows in Italy
I received the most wonderful message from my puppet directors in Italy. Gerson and Fabiana sent me the kindest thank you for all of the equipment that we had given them. I really believe that this thank you belongs to all of you who have prayed for the team in Italy and given so generously. Please read their words:
"Thank you dear Linda for every penguin, for every white bear, for every brown bear, for every puppet! The sound system is excellent, and the stage curtains are beautiful! The Bible storybooks are being distributed, especially the tracts. Olaf is a magnificent idea to capture the attention of the families passing through the square! Thank you for investing precious resources in our lives. Today, all of our team in Verona and all of us send you strong hugs. Please thank your supporters and your directors. We thank them for their prayers, and say that the Lord has heard and blessed us. We love you!"
Our team in the north joined with our team in Verona to do many Christmas shows at the square in Verona. As you know, Verona attracts many tourists because of Shakespeare's "Romeo and Juliet". Above you will see pictures of the two teams and the crowds that God gave them.
Olaf, that was mentioned by Gerson, is a five foot tall, amazing puppet. He started as a large stuffed toy, but Gerson has the ability to turn anything into a puppet. Just getting Olaf to Italy was a challenge, as he did not want to fit in our suitcases! The other puppets that Gerson mentioned were special Christmas puppets that we bought for these shows.
Please rejoice for all that God is doing in Italy! By most, this is considered an extremely difficult field for ministry, as the established church there is resistant to the simple truth of the Gospel. However, our puppet teams are having opportunities in all kinds of places to share Jesus and talk about His hope. Please pray for our team as we are enjoying all kinds of Christmas ministry. I will tell you more about this in another email. Merry Christmas!
In Jesus,
Linda, Danielle, John James, Elli, Jana, and Caleb