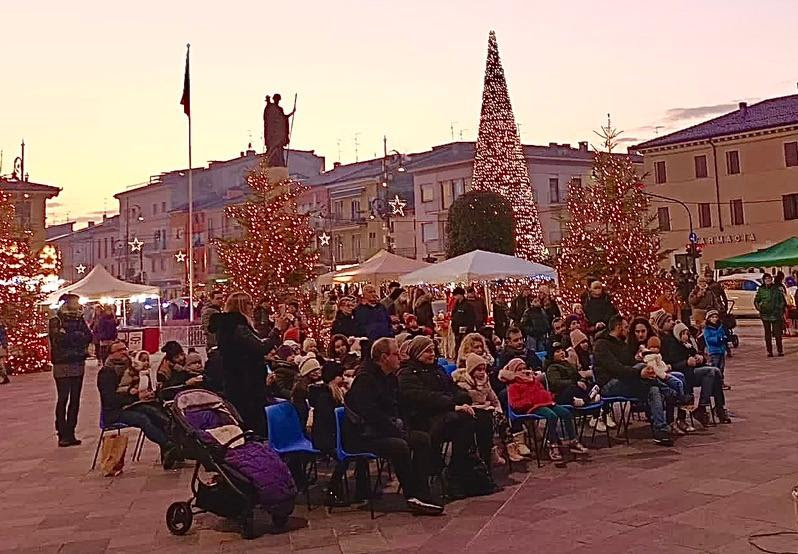 Dearest Friends, 
Christmas Joys
Above is a picture of the square in Verona, Italy. Off to the right, one of our Italian teams is set up sharing Jesus with many children and their parents.
I have already had so many children, teenagers, and adults visit my home this Christmas. I am still expecting more friends to come to my home and invite you to contact me if you are interested in a visit! Everyone who has came on a tour has heard the true story of Christmas and enjoyed cookies, as well as some sweet fellowship. My mother often told me a story that I have been sharing with everyone as part of the devotional I do at the start of the tour. My mother grew up during the great depression so things were very different than they are now. She told me every Christmas she got an old shoe box for Christmas and inside were always the same two gifts. She would get a couple of pieces of candy and a piece of fruit. When my mother would speak of this time, she never expressed sadness or any sense of disappointment for the gift she received. I have been sharing her story with the children in an effort to encourage them to be grateful, and to remind myself to have the same sweet spirit. Finally, I remind everyone that Jesus is the greatest gift of Christmas, and I tell them how they can know Him as their personal Savior!
Many of you have generously contributed to our matching fund campaign. There is only a little bit of money left to match. Please pray for God to provide these remaining funds. Please ask God to bless everyone who has been such a blessing to tens of thousands of children that they will never meet on this side of Heaven.
The puppet team did special Christmas programs for hundreds and hundreds of children this December. You would be amazed if I told you where we did these shows, but I cannot. Please know that many children heard the hope of the gospel who do not normally get to hear about Jesus. Please pray that they will hold on to all of the stories they heard and put their trust in Jesus Christ as their rescuer.
This year was the 49th annual Jesus Birthday Party, and as always, I was delighted and blessed. My husband and I began this tradition on the first Christmas we were married. This year we once again, went outside and gathered around my large magnolia trees. We sang Christmas carols, read Scripture, and sang happy birthday to Jesus. It is always the first Saturday in December, and you are always welcome!
I am especially blessed this year to have my Brazilian/Italian Directors spending Christmas with me. Fabianna and Gerson Simioni and their daughters Loretta and Laura, are making my Christmas very bright! I marvel at all the puppet shows they do around the world and the incredible way they follow Jesus. This is the first time they have visited America, and I am especially blessed to have them with me.
I just returned home from an amazing trip to Florida where I had the blessing to do a Christmas outreach with Northside PCA Church. This is the church where my oldest son and his family attend. So I was doubly blessed to have the opportunity to work with them, stay in their home, and have more time with my grandchildren! All of us really enjoyed the opportunity to serve together and tell children about Jesus.
As you are out finishing your Christmas shopping for your children and grandchildren, would you please consider doing a little shopping for the children of Nepal? I will not go to Nepal until February, but I need to gather the winter coats for this project now. I need 200 winter coats in sizes small, medium, and large for a remote village in Nepal. As always, we will use these coats to bless the children. And when we give them away, we will tell them about Jesus. Praise God for the 49 coats that have already been provided. If you wish to send a coat, here is my address:
Linda Summer
6550 West Armuchee Road
Summerville, GA 30747
I want to wish all of you a very Merry Christmas. I pray that you will constantly seek to put Jesus first in your life. This is the same prayer that I am always praying for myself, because more than anything, I want to live with Jesus as my king. God bless you all!
Love in Jesus,
Linda for a very tired, but happy puppet team