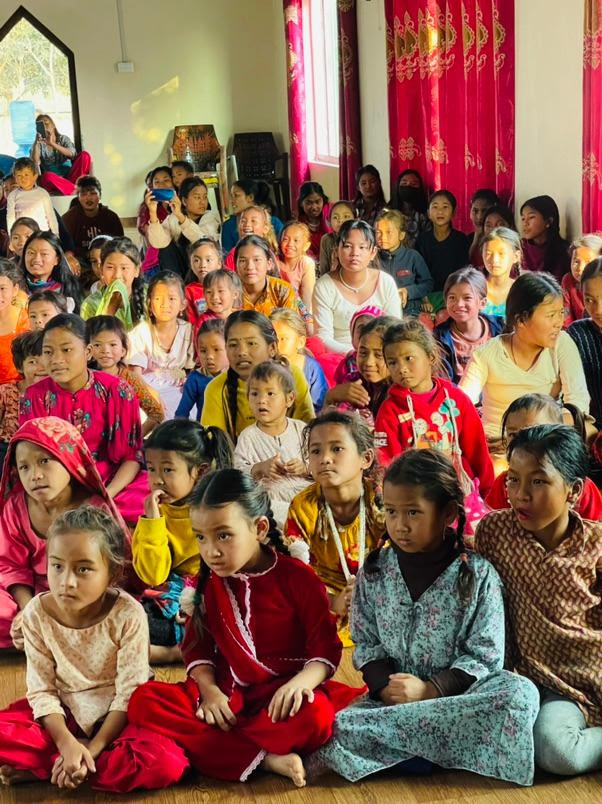 Dearest Friends, 
Our First Show
Our first show was a blessing, but I also felt sadness because Sam was still in Singapore! I very much wanted the children to have the chance to see Sam juggle and to hear what he would have shared with them. However, God had another plan. When we first arrived, the room was not full, but very quickly filled up. The children were delighted with everything that they saw and more importantly, they loved the story of Jesus! Many adults even joined with the children because they were curious.
I always love looking out across the crowd and seeing the faces of the children. Some are full of joy, some seem stunned, and some don't seem to know exactly what they think or feel! I always think it is such an honor that we get to tell children about Jesus! When a child comes to faith, they have the possibility of spending their whole life walking with Jesus. Some of the children at this show made that decision. I'm so happy that there is a church there that cares about children and will help them learn and grow in their faith!
This is the place that we went to last year and I love having the opportunity to follow up with some of the children. Please pray for the children in this place. Ask the Lord to provide them with something to eat every day, as many of these children are desperately poor. Ask our Father to give them deep strong faith, as they live in a terrible dark place. Ask the Lord to surround them with His Light!
The Orphanage
Around 200 children call this place home. It is run by a Korean couple, who sacrificially decided decades ago, that they would not have children of their own, so they could better love and serve the children God sent to them at the orphanage. It is obvious that these children are well loved! Above you will see a picture of the church at the orphanage where we did the show.
As we did the first song, someone asked me if it was alright if they danced with the puppets, of course I said yes! Immediately, almost 200 children leaped to their feet and showed us such joy! It was one of the most beautiful things I have ever seen.
Many of these children have parents, but they are so very poor that they simply cannot feed their children. The orphanage provides food and shelter, but it gives the children so much more! This couple really loves Jesus! Many of the children decided to put their trust in Jesus at the puppet show. It is always a special delight to hear children pray, asking Jesus to rescue them!
It is not easy to be a child in Nepal. From the time I was little, I was taught that I was made in the image of the Living God. These children have been raised surrounded by idols and false gods, who never proclaim that a child has value. They are always so surprised when I tell them that they are a treasure to God! While in Nepal, I heard a terrible story of a lady who decided she did not want her child. She worked in a hotel and as a result of her lifestyle, she had no idea who fathered the baby. She went to the river and was going to drown this precious little one. God put a Christian woman in her path, who rescued the baby! The young man is now 7 years old and loves Jesus! This is not an uncommon story. Perhaps it will help you understand why this orphanage is such a wonderful, safe place for children.
Please pray for God to take care of the children at the orphanage and meet all of their needs! Please ask God to grow their faith so that they can become bright lights for Jesus in Nepal!
Love In Jesus,
Linda, for Sam, Tika Ram Baral, and the Nepali Puppet team