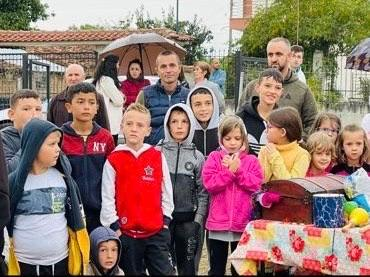 Dearest Friends,
Albania!!!!
This is a beautiful country! So far, I have seen mountains everywhere and a big beautiful lake. The people are so warm and friendly. As always, the children are so amazing! Above you see a picture in a village. This is where we did a show yesterday.
When we arrived, it was raining, but there were so many children waiting to us. We had to do something. Sam is so accustomed to working in the rain from living in Northern Ireland that he was a great encouragement.
I told a Bible story without drawing pictures. Sam juggled, and Danielle did an illusion. Both used what they did to share Jesus rescue plan!
One grandfather tried to drag his grandson away, but the little boy would not be moved. Another young man was listening so intently that he kept waving his friends off when they tried to distract him. He is the tall young man smiling in the picture.
We are partnering with dear friends, Gezim and Leanne Myrte, who moved here from Istanbul. For Gezim, Albania is home. It is where he grew up. In fact, the village is where his parents still live!
The show could not have gone better. We promised to return next week and do a full show for these precious children! Please begin to cover it with prayer. Please hold all of
these children before the throne. The Father knows their names!
One last thing
I told the children as we finished to hold onto Jesus as we finished. I crossed my arms over my chest and many of them did the same without being asked!
In Jesus, Linda, Sam and Danielle