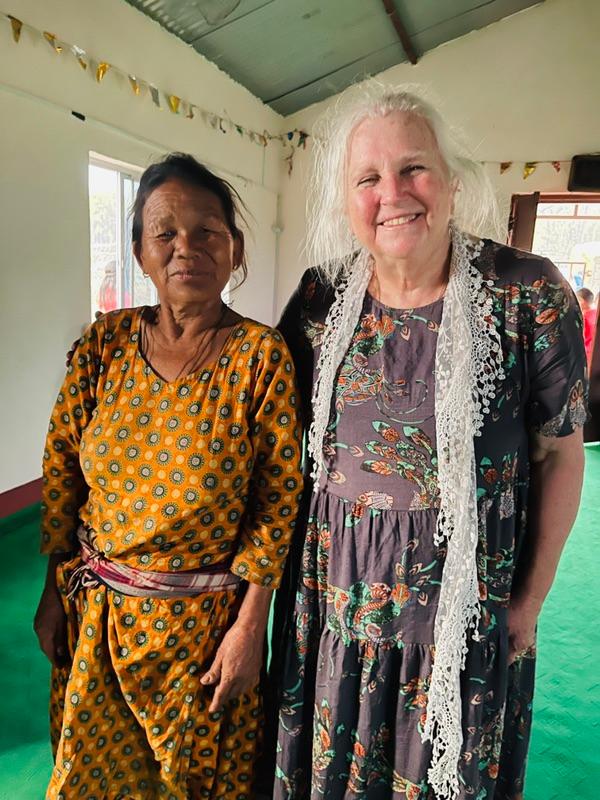 Dearest Friends,
A Monsoon Rain Plus Puppets
We traveled to a village that was surrounded by rice paddies. To enter the church, we walked across a six inch plank that kept us out of an irrigation ditch. We also had to take off our shoes to enter the church. The pastor thought that we would only have 25 children, but we prayed and the Father sent us over 180 children! We always take a pack of biscuits to the children (cookies), so that is how we are able to count. Less than 20 packs were left in a 200 pack box. Praise God!
We started the show, and a monsoon rain hit just as we were starting the Bible story. Even our PA was not loud enough. Then, the power went out. This PA needed power because the battery option is broken. So, Tik led the children in songs while the guys got the the generator up and running. We were determined to finish! We had no lights so we used a flashlight to light the easel where I was drawing. We used a phone to light up my chalk tray since I couldn't see it. I drew a couple of purple people.
The children responded to the story of Jesus with the same joy they had for the puppet songs! They prayed so loudly and with great enthusiasm! This show, despite all of its challenges, blessed everyone of us. We left praising God, driving back across wide swollen irrigation ditches. I am so happy to be in Nepal!
Ukraine
(Warning: part of this message may not be safe to read to young children)
My puppet director friend Vera sent me the following message yesterday:
"Sooo grateful for your kindness and sacrificial care about us!!! I hope Silvana sent you pictures and videos of our people being sooo thankful for the help!!!
Our Northern villages have been bombed with phosphorus bombs. Many people got burns and were brought to the hospital yesterday… It's very sad…
I am thinking what to do: ask for more humanitarian aid or evacuate every one from this coming danger… Please, pray for wisdom and discernment in this matter –
Much love, Vera."
Vera's gratitude is shared by all of you who helped buy the necessary supplies and prayed for Sam's delivery.
Please pray for Vera! They face a desperate time! Let me explain about these bombs Vera mentions. White phosphorus can cause deep burns, all the way down to and even through bone. These burns can still reignite after initial treatment.
Sam and I have told her that we are ready to help in whatever way we can. Cover Vera and her pastor husband with prayers!
In Jesus,
Linda, Sam, Tika Ram Baral, Amit, and Nabin