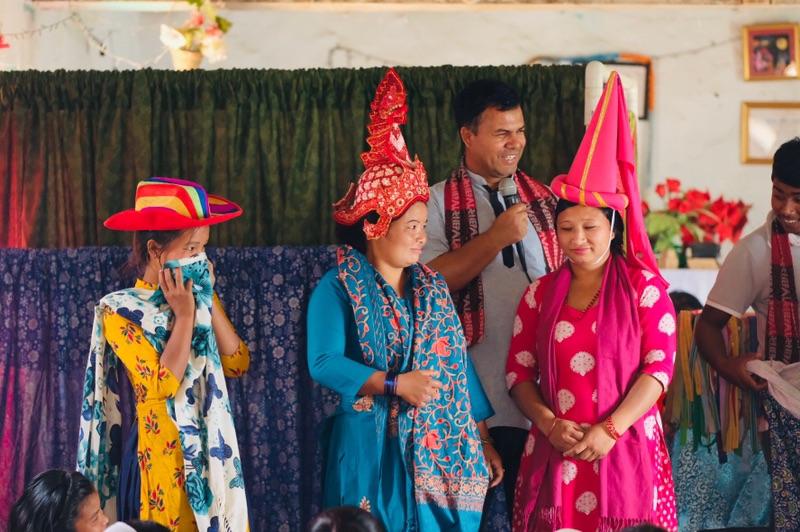 Dearest Friends,
Our second trip up a mountain took us to a place not quite as high as our first trip, but was every bit as wonderful! We were working with the Chepang tribe, a group of people that were often shorter than me. Their clothes were so colorful, and their enthusiasm for God's word was precious!
The climb to reach these dear people required us to travel a road that wound around the mountain and constantly crossed an enormous dry river filled with a mountainous amount of rocks of every size and description. In less than 3 weeks time, the monsoon rains would have made this trip impossible. The river would have filled with rushing water and stopped all travel up or down the mountain. The Father's timing is perfect!
Members of six Chepang churches hiked hours to reach the little church perched on top of the mountain. We had many young men and a few older men join us. Since this had been advertised as a women's conference, this was a surprise. I quickly made changes and Sam and TikaRam Baral both shared a lot. It worked out as the Lord had planned!
We did a study on the promises of God. It was well received and many took notes. I thought of them hiking for hours, carrying their Bible and notebook. Their determination to study the word of God challenged my own soul.
The little church could not hold everyone, so some filled the windows.A large number also stood inside the back door. No matter where they stood or sat, we gave everyone Bibles. We told them that if they had one, they could take this one home to someone in their church who wanted a Bible. A Bible costs about 6 dollars now, and people save for years but can not afford one.
Their pastor is Vimlal Chepang. They all use the tribal name as their last name. These people love the forests and jungles, but are desperately poor. A few had very old cell phones, but they all have dirt floors in their homes.
We were the first foreigners who had ever come to see them. They welcomed us with special scarves and flowers. When we left, they lined the road and waved to us. It seemed strange that they seemed so honored by our presence, but the truth is that we were honored, humbled and blessed to be with them.
This pastor needs our help. Fifty dollars a month would change his life financially. Amit is a dear friend who pastors churches among the people others call rat catchers. If you would like to help with these men's support or the coats and shoes project, please do one of the following: you can donate at The Agape Puppets website under the donate tab, https://theagapepuppets.org/donate/, or mail checks to 6550 West Armuchee Road, Summerville, GA 30747. And as always, please pray over these projects as well!
Homeward Bound
By the time you read these words, I will be in the air. Please pray me safely home!
In Jesus,
Linda, Sam, TikaRam Baral, and Amit