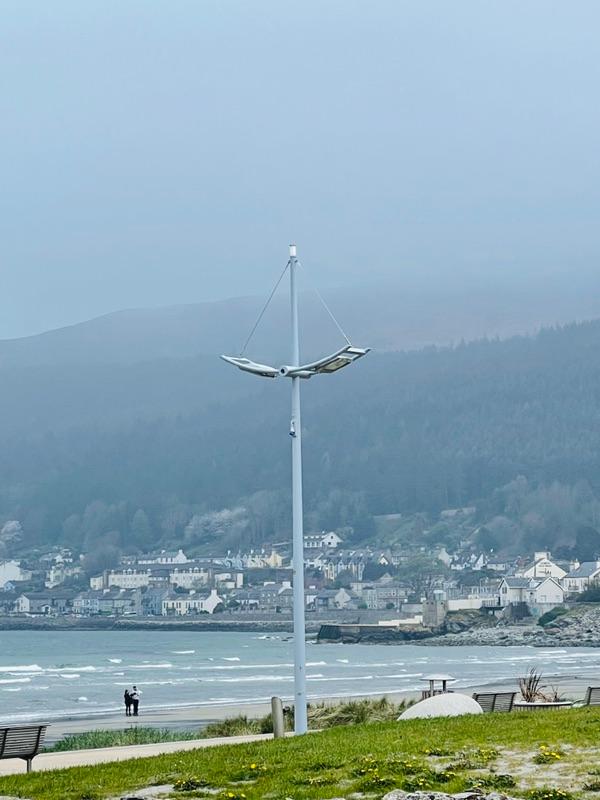 Dearest Friends,
Easter Sunday
Easter was very cold, rainy, and windy here in Newcastle, Northern Ireland. You only need to look at the picture above and our funny hats, to grasp how very cold it was on the street. Though I did not wear my funny hat when I did a show, Stephen never took his off!
As I told the stories to the children and their parents, I kept thinking about how for many of them Easter is only a holiday. Too many children do not know that it is a day to celebrate the risen Jesus. I count it as such an honor to tell these precious children about the King, no matter the weather!
Sunshine and Rain
Monday dawned with the sun shining! It was a very welcome sight. They say that if you can not see the Mourne mountains, it is about to rain. However, if you can see them, just wait, it will still rain. This does seem to be true.
Though the rain came and went on Monday, we were blessed with huge crowds! People asked for Bibles and were happy to receive tracts. We gave out so many children's tracts, and I did not see any on the ground! This means that they kept the tracts, and did not just throw them away.
However, the sweetest part of the day for me was the way the children and adults stood and eagerly listened to Bible stories as though it was news! It is difficult to accurately describe the way the crowd was so intent. They really loved hearing about how Jesus calmed the storm and how the prodigal son was welcomed home! All of the stories delighted them and I know that this was the Father calling to them and nothing I did!
We did 4 full shows on Monday, with Reality singing and sharing, followed by a puppet show. As we finished, the rain came with enthusiasm, but the crowds remained, standing in the rain, until we finished. It was crazy. Water was running off my nose, but their hunger to hear the good news of Jesus' rescue plan held them. I am in awe of the Father and thrilled at all we saw Him do!
Turkey
We have one more day to do street shows. I cannot wait! Tomorrow, Wednesday, I fly to Turkey to share with Syrian refugee children. Please cover my travels in prayer!
In Jesus,
Linda for Reality and God's Handiwork