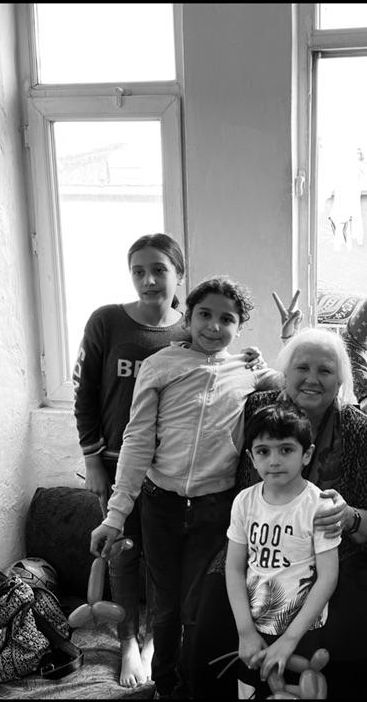 Dearest Friends,
All of the pictures are in black and white because it seems that colors and light and so many things do not exist in the life of a refugee. They live in the places that no one else wants to live. Once many of these places were grand homes, but now only bits of that beautiful architecture remain and hint at what once was so fine. Now the places simply smell. The bathrooms overflow into the halls. The children walk through it all the time. The spaces are small. Their shoes are piled on the steps since no one enters a home with their shoes.
The refugees take the jobs that no one else wants. They live with little. They live without many things but their greatest need is Jesus. To live life without Him is to have no peace, no hope, no rescue. It is the rescue that only He offers that we seek to share.
The biggest thing that they live without is hope. They are stuck between their escape from a war at home and a life that seems to be going nowhere. Some precious few receive the opportunity to immigrate to somewhere. Most simply remain in Turkey, waiting….
I am going on home visits with my friends here. I sort of do a mini-show which means we carry lots of storytelling supplies so that we can do a program for the children in their homes. Their moms listen too, so sharing with the children gives a sweet opportunity to share with everyone. The fathers are usually not there.
Yesterday, we had to triple translate my story . The children had invited a Turkish friend. So we spoke in English, Arabic and Turkish. I had to use very short sentences so that we could make the story move fast so that the children would not lose interest. It was so much fun! It was so much blessing to tell the children how they could trust in Jesus!
I am broken for the children and their suffering. Most do not know that Jesus is the Son of God. They live with many laws and no grace. Only Jesus offers grace. Only Jesus can rescue these children. Please pray! I have another home visit today.
In Jesus,
Linda