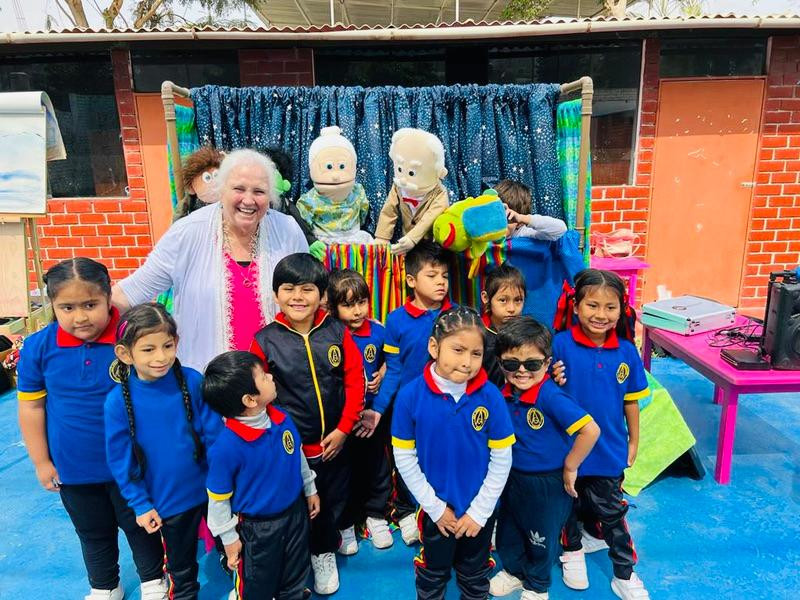 Dearest Friends,
Because the last 2 years have been marked by a global pandemic I am very grateful for every single opportunity that the Lord gives me to do a puppet show! I believe that before all of this trouble started I was not near as grateful as I am now. Today, I was especially blessed as we got to do 2 shows! One was at a large Christian school and the other was at a small preschool called the Angels of Guadalupe.
In both places, the children loved the show! They laughed and smiled and so many prayed, calling on Jesus to rescue them!
At the end of the first show, I was mobbed by so many children that just wanted to thank me, hug me, and tell me that they loved me. The second group of children was much younger, so they were not quite as brave. I thought this one little boy who insisted on wearing sun glasses looked like our green cool guy puppet!
We had an especially sweet day, and I would beg you to pray for all of these children who prayed with us today. I was only 5 when I put my trust in Jesus, so I know from personal experience that children can make real decisions for Jesus. Please ask the Lord to give them deep faith. Please pray for the shows we have tomorrow. Please know that your prayers are touching Peru for Jesus! Thank you!
In Jesus,
Linda for Ágape Peru and Runi Sumi