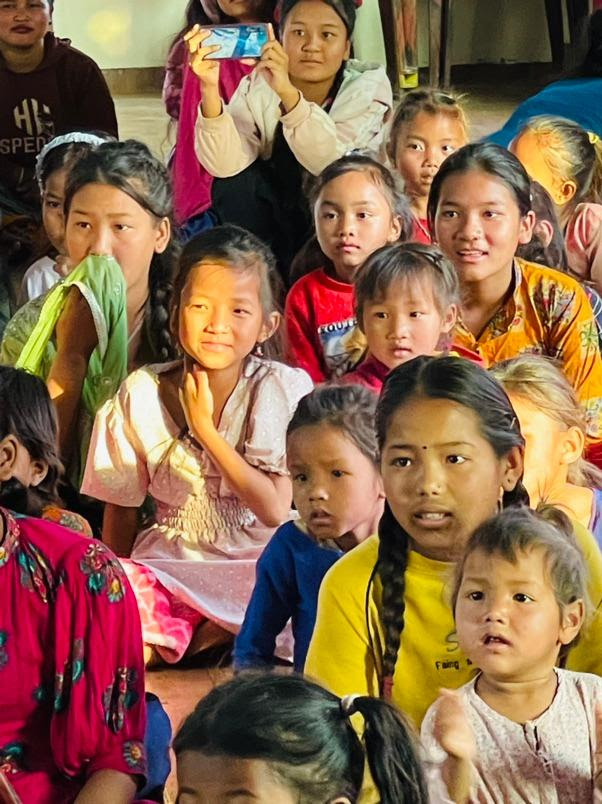 Dearest Friends,
Joy!
I am in Nepal! I am so happy to tell you about the puppet show that we did yesterday many many hours from Kathmandu. I always ask to go to the distant villages because they are often not visited or even seen. The children gathered in a very friendly little church after school. The piles of sandals on the front porch promised a big crowd! The shoes did not disappoint!
Sometimes the children laughed as they watched us and sometimes they simply stared in wonder, unsure of all they saw. As I finished the story, the children began to pray, asking Jesus to rescue them. We were overwhelmed with joy!
More Joy
Sam and I had a difficult time reaching Nepal. There was a worldwide computer problem that caused chaos with everyone's flights. Sam is still not with me, but is coming today.
As a result of this problem, I entered Nepal with 12 large suitcases all by myself. They were packed with children's coats and supplies to equip 30 new storytellers. I have never had trouble at customs, but this time I was detained for hours, and for most of that time, everything being confiscated was a real concern. I texted my family and many good friends and they prayed. God rescued me! The details of that were incredible, but too lengthy to include here. Please know that when I was finally allowed to leave the airport and only had to pay $150, I was overwhelmed with gratitude and joy!
Please pray for the children of Nepal!!!
In Jesus,
Linda for Tika Ram Baral, the Nepali puppet team, and Sam Shaw