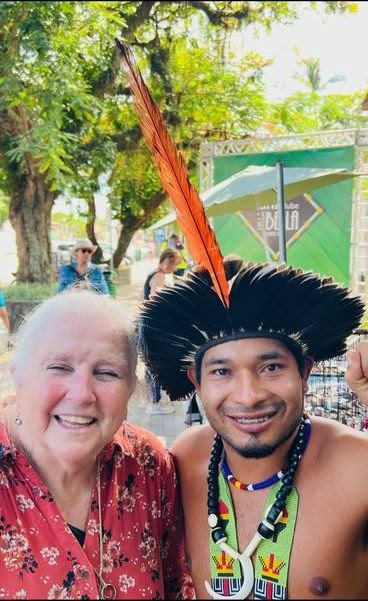 Dearest Friends,
A Very Bad Place
The beautiful children pictured above live in a village over 8 hours from here. We did a show for them on Sunday morning at the church where we had the Ágape Puppet Conference. That church has worked with this village for 25 years, and for those who have listened to the Gospel, their lives have changed! Hope that is based on God's word changes everything!
However, the village has so many people who live with no hope. There is a lot of drug abuse, prostitution, and violence. Many of their parents are in prison. It is a very bad place where it is hard to be a child.
Sunday morning, many of these children prayed with me, asking Jesus to rescue them! The church works with these children weekly and will help them grow in their faith! Please pray that they will love Jesus deeply and trust Him no matter what is happening around them!
Zach
During the pandemic, Fabiana taught a drawing class online. A little 11 year old boy signed up to take the course. He is pictured above with the drawing supplies we gave him to encourage his art. Zach tells Bible stories with his pictures like we do. He is now 13. His father is a wonderful Presbyterian pastor and his mother is so very kind. She always has a smile on her face! She needs your prayers as she is battling cancer and is very ill. This truth makes her joy shine brighter!
If a child can stand in front of crowds and tell people about Jesus, how can we have courage and tell others about Jesus?
A New Hat
For those of you who have seen our show, you know that we use hats from other countries at the beginning. The children laugh as their friends put on the hats. I have learned that if a child feels comfortable enough to laugh with you, they might feel comfortable enough to pray with you!
I bought a wonderful new hat from the Pataxó tribe in Bahi state. It is our hearts' desire to share with the children there. Please pray for an open door for Fabiana and Gerson to go there!
In Jesus,
Linda for Fabiana and Gerson and 18 Ágape Teams in Brazil