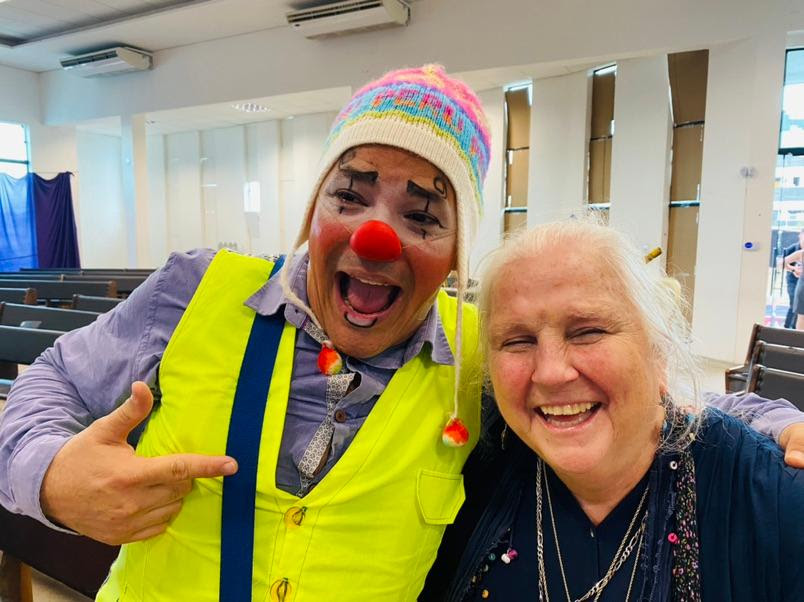 Dearest Friends,
Three Boys
Above you will see the sweet faces of three little boys. Sunday morning they listened with delight to the story of the prodigal son. They helped to make all the funny sounds I requested. They had fun hearing about Jesus! Many children could be heard praying at that show, asking Jesus to rescue them.
Especially dear to me was the fact that those three boys really wanted to thank me. They came over to see me after the service. With big smiles, they announced that they wanted to teach me a Portuguese word. They were overjoyed when their lesson worked. Please ask the Father to make these 3 dear little boys bright lights for Jesus in Brazil!
Chulingo the Clown
Pastor Vinícius is a wonderful Presbyterian pastor, but he is pictured above as Chulingo the clown. He is part of our Ágape Brazil family. I have never been very happy about clown ministry, but I have never seen any clown share the Gospel so beautifully as Pastor Vinicius. I laughed with as much delight as the children and was brought to tears with the depth of his salvation presentation! What a blessing he was to all of us at the conference!
The Wall
When the Portuguese landed in this part of Brazil, they were met by a large mountain range. Since the trees and undergrowth were so dense, they called this sight "the wall ".
It is incredibly beautiful and a testament to God's beautiful creation!
In Jesus,
Linda for 18 Ágape Teams in Brazil