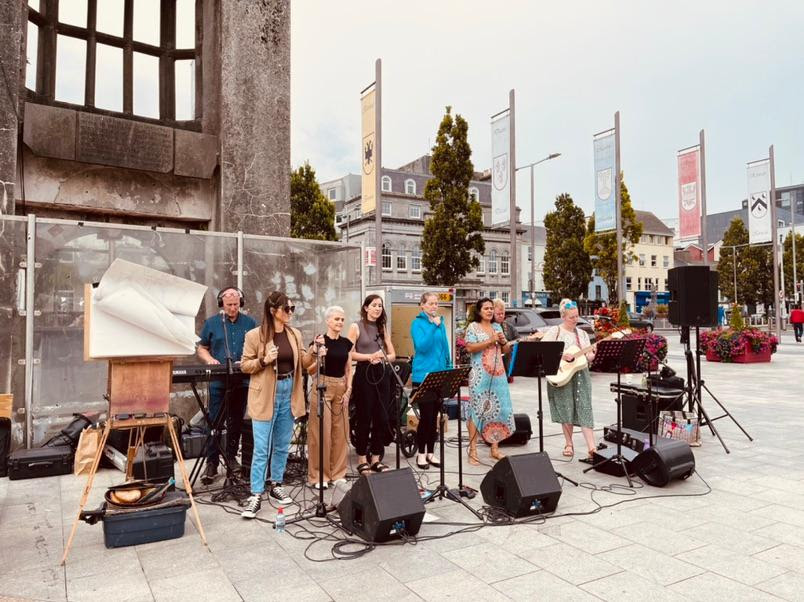 Dearest Friends,
A Perfect Show
We are at the Rose of Tralee festival in the south of Ireland. Last night we had what I would describe as a perfect show! We had a huge crowd that was very responsive!!! They laughed and cheered and clapped and enjoyed every part of the puppet show. You cannot imagine the joy that they had for the entire puppet show and for the band. Matthew, our twelve year old Irish puppeteer, said that it was the best puppet show he'd ever seen, because even behind the stage he could hear their cheering.
As I was telling the story of the prodigal son, I noticed that one lady had tears in her eyes. I finished and spoke to her while the puppets were singing. When I asked her why she was crying, she had the most incredible response. She said that it was so incredible that Jesus would always forgive us, that He would always love us. The lady was Roma (gypsy) and had come to faith as a part of a revival that had sprung up in the Roma community a few years ago. She was deeply in love with Jesus and had brought her family, her extended family, and everyone else she could to the puppet show.
The conversations in the streets were amazing. Please pray for a man named Charlie to return tonight to talk with Robin more about Jesus rescue plan for him. Many bibles were given out, lots of Ukrainian literature, and many copies of a beautiful magazine called Hope published by an English ministry called Good News for Everyone. I saw many people scanning the QR code for the band's music. People were eager to talk and happy to stand in the rain and listen. It was a glorious night!
Please pray for us and tomorrow as we are again on the street. We did have a very drunk lady visit us yesterday. She is in desperate need of the power of the cross to change her life. The other day in Galway, I had a man explain to me that people do not really sin, rather they simply go into "animal mode". If you want to hear odd theology, join us on the streets. The same man tried to explain how to become a Christian, and even I was very confused. Obviously, all of these statements go against God's beautiful words of truth, but they do illustrate how desperately we need our prayers. We are constantly dealing with many broken and confused, as well as many hurt children. Please pray!
Galway
Our last shows in Galway went very well. We had lots of Ukrainian mothers and children come and receive Jesus storybook bibles in their own language. I think that Galway especially enjoys Reality's music. I watched people's faces as they stood close to us, and many far away, but you could see they were listening with their hearts. The puppets songs and testimonies, along with the stories, were great! In every place we go, big bear is everyone's favorite puppet.
In Jesus,
Linda, Jolly, Matt, Danielle, and Matthew (The Agape Puppets), Sam and Silvana Shaw (our Irish directors), and Reality (the band)