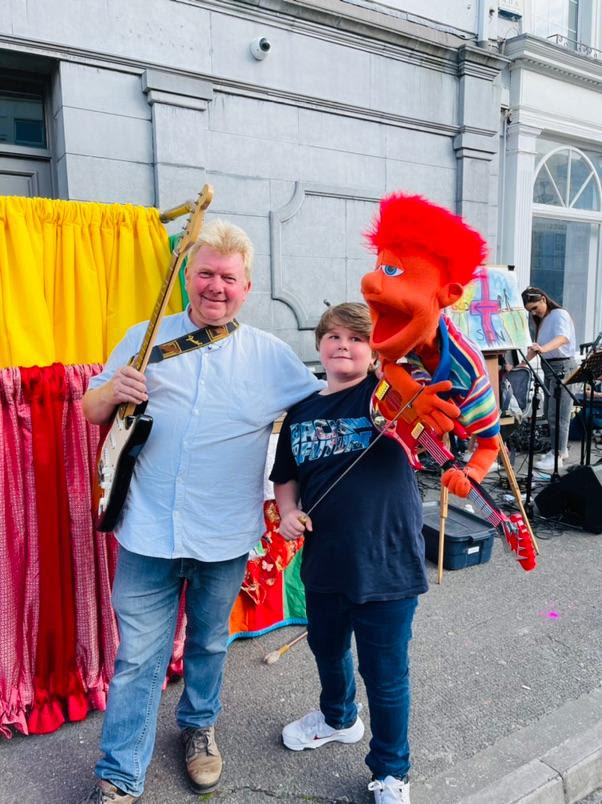 Dearest Friends,
Unbelievable!!!
Our last day at the Rose of Tralee Festival was unbelievable! We went down early in the day and set up so that we would be there before the parade. This gave us an opportunity to do some shows around lunchtime, but my favorite shows were the ones we did after the parade. There were hundreds of people standing around, and we were able to reset very quickly. Because of this, we were able to capture the crowd's attention before they left. I had the joy of telling stories to crowds of a hundred, two hundred people. We were all so blessed because our hearts' desire is to tell as many people as we can about God's beautiful rescue plan.
We had so many children, but we actually had more adults. It always amazes me that adults will stand and listen to a Bible story on the street. I believe that it shows that people are genuinely hungry to hear about Jesus. My heart was so full of joy as I told people that God loves them and wants them to come home to him. I shared with them how they could pray, and I looked into eyes full of longing. When you know Jesus, it is easy to forget how lonely life is before you knew Jesus. I saw deep hunger, brokenness, and hope that there is something, someone, better than what they know. We were all so blessed!
I could not have been more pleased with the work that Danielle and Matt Hall, Jolly Nichols, and Matthew Acheson did as puppeteers! They made the shows look spectacular! God used their hard work to gather thousands of people to hear about Jesus from the north coast of Northern Ireland to Tralee in the deep south of Ireland. Their puppets were dazzling! In the words of my Irish friends, "the puppet shows looked brilliant!" Please rejoice with me for their faithfulness and their deep love for Jesus!
Reality
Next year, in 2023, The Agape Puppets and the band Reality will have traveled together throughout Ireland doing ministry for twenty years! Our adventure began twenty years ago when we first met at a housing estate, (low-income housing), and did a program together. Mike and I were so impressed with Reality and the way they did ministry. Everything for them was about Jesus! They were humble and kind and never demanding, but very focused on doing the best job they possibly could. We had such a great time that day that Mike suggested to Stephen, the band leader, that we should travel across Ireland doing this program. Within a few months, Stephen called us and told us that he had everything organized for the trip! None of us could have imagined how that one idea would bind our lives and hearts together as a family.
Just For Fun
We always have a very good time together! I watched the parade with my young Irish puppeteer Matthew. He had a giant blue puppet on his hand and was waving at every float that passed. The blue puppet seemed very impressed with himself. He turned to look at me and said "the women love me!" Matthew and I were laughing so hard, and so was everyone else who passed the puppet stage during the parade.
Stephen kindly took an extra day off from work so that he could show us some of the sights that we missed while we were working. He took us to Giant's Causeway, Dunluce Castle, out for ice cream and scones, and to Torr Head, the site of a 13th century fort. Presently, there is a broken down coast guard station, but the view is incredible! That evening Sam grilled so many wonderful things and everyone else brought desserts and side dishes. We had a wonderful party, and as always, found it so hard to say goodbye. Please continue to pray for Ireland and Northern Ireland, and all the people we told about Jesus.
In Jesus,
Linda, Danielle and Matt, Jolly, and Matthew (The Agape Puppets), Sam and Silvana Shaw (the Irish directors), and Reality